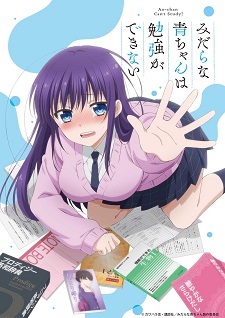 Publishing company Kodansha opened an official website for a TV anime adaptation of Haruka Kanda's romantic comedy manga Midara na Ao-chan wa Benkyou ga Dekinai (Ao-chan Can't Study!) on Tuesday.
Synopsis
When Ao was in kindergarten, she smiled ear-to-ear as she told her classmates how her father, a bestselling erotic author, chose her name: "A as in apple and O as in orgy!" That day still haunts her ten years later as she studies with a single goal in mind: to get into an elite university and achieve independence from her father once and for all. She has no youth to misspend and no time to think about boys…until her classmate, "King Normie" Kijima, approaches her with a shocking confession of love. She tries to lose Kijima, but he just can't take a hint…and as her mind runs wild with dirty thoughts, she realizes her father has totally influenced her!
Staff
Director: Keisuke Inoue (Sunohara-sou no Kanrinin-san assistant director)
Series Compostion: Michiko Yokote (Masamune-kun no Revenge)
Character Design: Miwa Ooshima (Baka to Test to Shoukanjuu)
Studio: Silver Link.
Shounen Magazine Edge began serializing the manga in October 2015, which has seven volumes in print as of September 14. Kodansha Comics licensed the manga in English for digital release this past August and published the second volume on November 27. The third volume will go on sale on December 25.
Official site: http://aochan-anime.com/
Official Twitter: @aochan_anime
Source: Comic Natalie